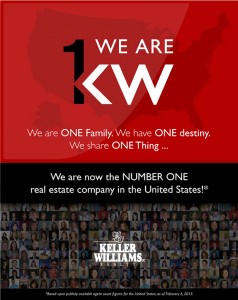 The KW vision is to become the Real Estate Company of Choice. 
Keller Williams is the number one Real Estate Company in North America with over 80,000 agents  and is expanding to international countries including Viet Nam, Southern Africa, Turkey, Indonesia, Germany, Switzerland, Austria, UK, and Northern Ireland.
The reason KW is the number one company is because it has a revolutionary concept of treating each agent as a partner and a stakeholder in the company, thus creating a sense of ownership and loyalty.  Keller Williams values it's agents as their greatest asset, whether you are a capper or a new agent.
Imagine a Real Estate Company where there is a real incentive for agents to share ideas and knowledge and where they encourage each other's successes, where they are valued as equals and where they are taught to market their own brand.
Keller Williams is more like a family than a corporation.
If you would like more information on how to become a part of the Keller Williams family, contact
Beth Kerwin, Broker, Keller Williams Western Realty
1000 SE Everett Mall Way, Suite 210,  Everett, WA  98208
425-239-1956 or beth.kerwin@gmail.com