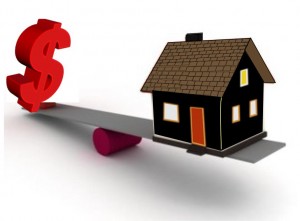 Sales of new single-family homes dropped 2.1 percent in November, according to the Commerce Department's latest new-home sales report.. But that is still up 16.6 percent from November 2012, and last month's numbers  of 474,000 sold units is the highest level for home sales since July 2008. "The very low supply of new homes on the market and tight credit conditions for home buyers shows that builders are still cautious about getting ahead of themselves," says Rick Judson, chairman of the National Association of Home Builders (NAMB).  
The good news is that new-home construction hit its fastest pace in five years. Housing inventories, though, remain tight at a 4.3-month supply, with inventories of new homes hovering at a four-and-a-half-year low. Sources: Reuters and NAMB
Though borrowing costs are increasing as interest rates have lifted from their historical lows, some real estate professionals believe the rise may boost home sales and that it will  get people sitting on the fence to decide that they should act now to avoid higher costs. The perfect house may never be cheaper than it is right now. At the end of 2012, Rates on 30-year fixed home loans averaged 3.52 percent. At the end of 2013, Freddie Mac reported that 30-year rates averaged just under 4.5 percent. "A 1.0 percent increase usually affects around $30,000 in buying power," says Todd Reynolds, a real estate professional with Goodall Homes. Economists are predicting that rates will likely rise to 5.0 percent or 5.5 percent in 2014. "Most people realize the 3.0 percent-range interest rates are gone, and they'd better be glad to get 4.5 percent.
Home prices surged 11.3 percent in 2013 compared to 2012, the latest housing data by the National Association of Realtors® shows. This rise in home prices has pulled more home owners out from underwater with the return of equity this year.  A borrower who bought a median-priced home in 2004 and held it for nine years would now have $28,114 in equity (includes combined price appreciation and paying down mortgage principle). A home owner who purchased a median priced home in 2012 would have more than $23,000 in equity, according to NAR research. Home owners who purchased in 2006 and 2007 – during the peak of the market – have faced the biggest falls in home prices.  A home owner who bought a home in 2006,  and owned through 2012 would have been underwater by about $28,200. However, by this year, that downfall has lessened to $4,700. Home owners who bought since 2007 are mostly in positive equity, according to NAR research. Source: NAR