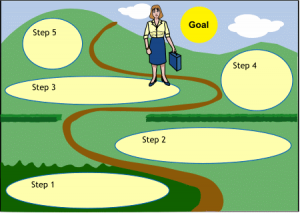 I have a feeling that 2014 is going to be a year of accomplishments.  What 3 things would you like to accomplish this year?  Sell 24 homes?  Build a house?  Learn a new language?  Teach a class?  What ever you decide, do you have a plan to achieve your goals?Have you heard of the GPS goal setting plan, or sometimes known as the 1-3-5.   The G is for your one Goal, P is for your 3 priorities in achieving your goal, and the S is for the 5 strategies or activities you need to do.  In other words, it is like a road map to help you reach your goals. Once you have a clear picture of what you want, then you can organize your activities around it.
Here is my example
              Goal – lose 15 lbs


Through Food Intake        Through Exercise                     Through Attitude

    Limit Carbs                                    Walk 1 mile a day                        Set a deadline
   Dont buy junk food                     Stand when possible                    Display pics of swim suit

   Portion control                           Use stairs vs elevator                    Listen  positive affirmation

  Try new low cal recipes             Strengthening exercises                 Weigh & measure weekly

   No Fast Food                           Family outings-swim, bike               Dont beat yourself up if you cheat a little

                                                  hikes, skate                                                                                                                                                                                            Just get back to your commitment the next day                                                                                       

See, its easy, and now I have a daily plan of what I have to do and you can do this for anything you want to accomplish.  This plan is especially easy for Real Estate Sales with the Goal being the number of houses you want to sell or the amount of money you want to earn. The Priorities could be 1. Buyers, 2. Sellers, 3. Leverage and knowledge.   Strategies=- Sphere, internet leads, open houses, sign calls, prospecting, expireds, etc.
I would be happy to help you develop your GPS for 2014,  Just give me a call or shoot me an email.
Beth Kerwin, Broker Keller Williams Western Realty
425-239-1956                 beth.kerwin@gmail.com
1000 SE Everett Mall Way, Suite 201     Everett,WA  98208