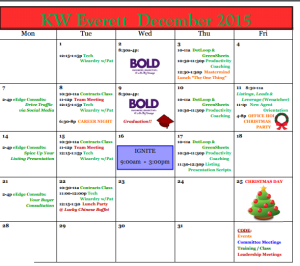 The Everett Keller Williams Market Center has some type of class or training most days of the month.  There is a reason we are the #1 Training Organization across all Industries.
Keller Williams Realty has received numerous awards since its inception. In addition to being an Inc. 5000 company, it has been recognized by Inc.  as a Top 100 Real Estate Company, placed on the magazine's honor role as a five-time Inc. 5000 Honoree, and receiving an Inc. Hire Power Award. Further recognition has come from Entrepreneur where it has been featured in the magazine's Best of the Best franchise list as well as inclusion in their Franchise 500 rankings. In 2013, Workplace Dynamics named Keller Williams the No. 9 Top Workplace in the United States. Also in 2013, Inc. Magazine presented Keller Williams with a HirePower Award and recognized the company as one of the 5,000 fastest-growing private companies in the United States.
Additional awards and recognition include being named as one of the Top 10 Companies to Work for in Americaby Forbes, a 2009 Stevie Awards winner, and being ranked in 2014 the No. 2 training organization across all industries by Training Magazine, and ranked in 2015 as the No. 1 training organization across all industries.